ISG GovernX® - Third-Party Risk Management
ISG GovernX® TPRM Lifecycle Framework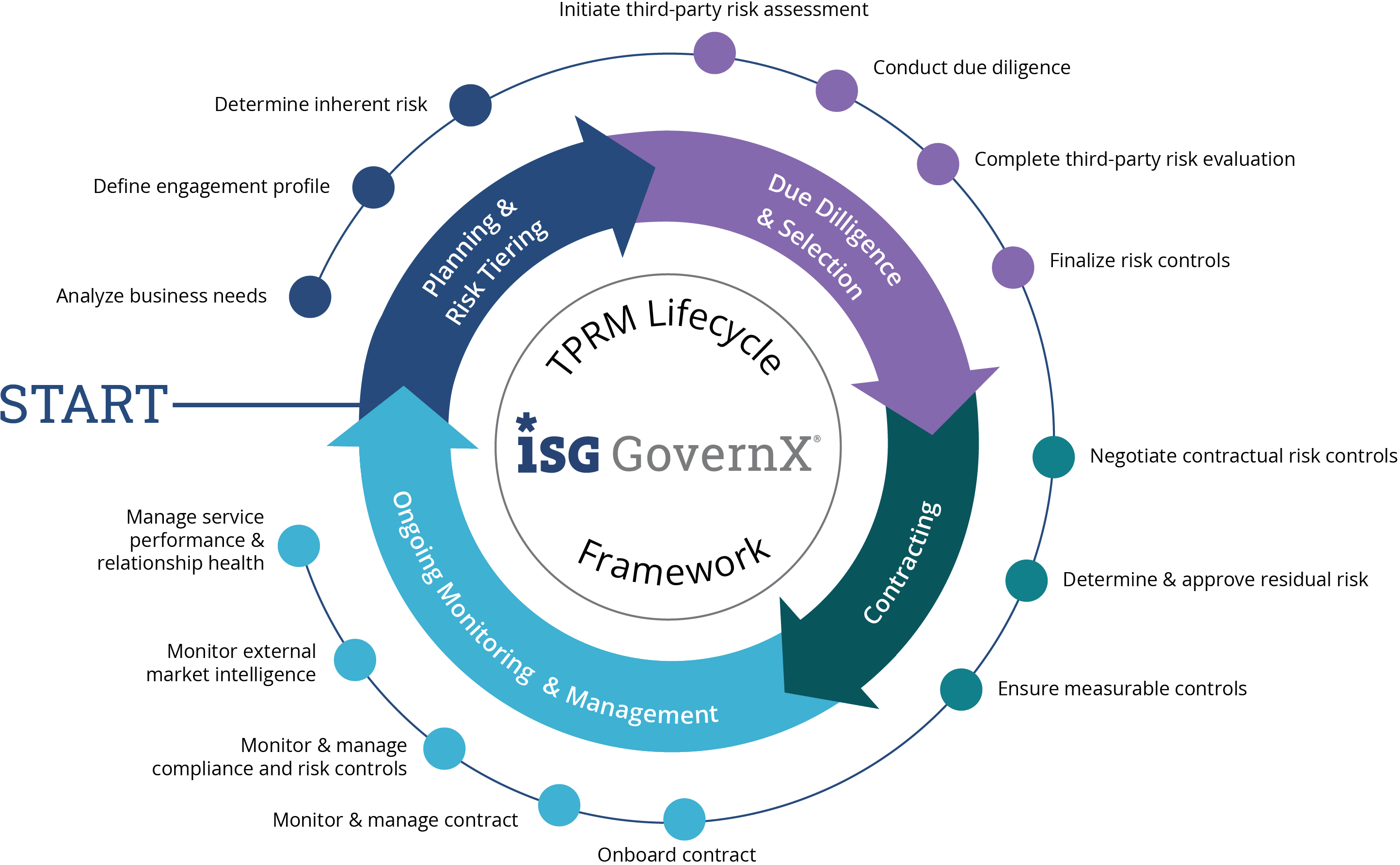 With fragmented sourcing, rapid growth in as-a-service solutions, and the increased exchange of digital information among a growing number of suppliers, third-party risk management has never been more important. As organizations increase their reliance on these relationships, they must mature their capabilities to more effectively identify, control, and manage the potential risk that these relationships pose to their business.
Regulatory Scrutiny
The complexity and the regulatory scrutiny of third-party relationships are also increasing, and enterprises need a comprehensive and data-driven way to control third-party risk throughout the life of the relationship. ISG's Third-Party Risk Management platform can help you create a safe, coordinated and efficient third-party risk management environment so you can focus on your addressing your strategic goals.
TPRM Lifecycle Framework
From initiation through termination , GovernX® manages the entire third-party lifecycle. GovernX® enables you to drive your third-party risk management program on your terms. GovernX® provides a solid framework for organizations of any size to realize value immediately.
ISG GovernX® TPRM Features

Provider Onboarding and Inherent Risk Tiering
Streamline inherent risk analysis of third-party providers for both, new and existing relationships
Identify the inherent risk of each third-party at either the supplier or contract level
Tiering by categories based on business attributes, such as criticality, info security, regulatory compliance, etc.
Use inherent risk to define a due diligence and ongoing risk monitoring strategy with providers

Risk Assessment Management and Ongoing Monitoring
Conduct third-party assessments, and verification audits to assess risk control adequacy
Use industry-standard templates such as Standard Information Gathering (SIG), AIMA or digitized proprietary questionnaires
Initiate one-time assessments or schedule an automatic recurring schedule
Track assessment progress, grade and evaluate controls to determine risk exposure

Risk Register Reporting and Risk Remediation Management
Identify and escalate risk remediation actions
Capture risk events and remediation actions in risk register – identify inherent risk and residual risk for each risk item in the register
Collaborate with providers to determine resolution assignments and owners
Create risk remediation plans to manage progress through closure
Capture remediation approvals and exceptions